---
Peplink SD Switch
Expect More from Your Switch

Peplink SD Switch 850W Power Budget
850W power budget, 3x power supply units, 24x GE Ports (PoE+), 2x 10G SFP+ Ports
Overview:
Expect More from Your Switch
Managing your switches and all connected devices can be a worry-free experience. Yet current switches still cause as many headaches as they solve. Is your switch smart and easy to use enough to address the following problems?
No Configuration Transparency
Configuration done through CLI is neither centrally visible nor manageable. This creates unnecessary maintenance downtime.

Time-Consuming Troubleshooting
If an improperly connected device is causing network problems, tracing the problems and finding the culprit becomes frustrating.

Need to Supply Reliable Power
If a switch's power supply fails for any reason, all connected devices become inoperable, bringing business to a halt.

Solution: Peplink SD Switch with Software Intelligence
Modern Cloud-Based Management
View the status of every SD Switch on a single interface. Push configurations to device groups and remotely schedule PoE port operation.
Tools to Quickly Find the Culprit
Use our cloud-based management tool to see all devices in your network. Search by MAC address and pinpoint the culprit's exact port.
Unbreakable Power
The SD Switch is equipped with dual AC power inputs and up to 3x PSU to ensure that it will keep running no matter what.
Multiple Redundancies for Unbreakable Reliability
The SD Switch is equipped with several unique technologies to ensure that your powered devices stay powered.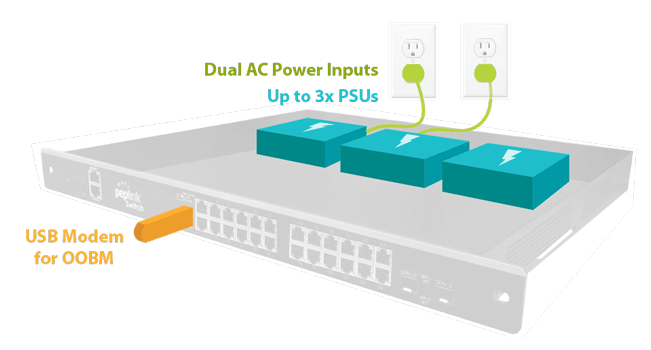 Dual AC Power Inputs
Connect the SD Switch to two independent power sources. Even if one source loses its connection, the SD Switch will keep on running.
Up to 3x PSU
Even if a power supply goes down, the SD Switch will keep on running. Power load balancing ensures longer PSU life expectancy.
Out-of-Band Management (OOBM)
Plug in a USB modem to enable secure out-of-band management using our cloud management tool (coming soon).
Networking
Link Aggregation (LACP)
Spanning Tree Protocol
Hardware
PSU Redundancy
Power Input Redundancy
Power Management
Port Scheduling

Device Management
Web Administrative Interface
InControl Cloud Management
Email Notification
Syslog Service