---
Peplink Balance 580
Multi-WAN Routers - Now for every network!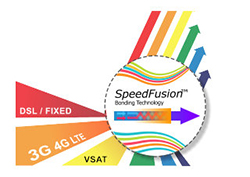 Fast
Combine the bandwidth of up to 13 Internet connections. Add and remove connections on the fly. Get speed when you need it. Pay less when you don't.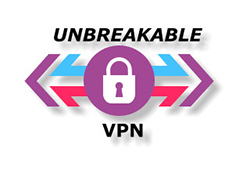 Affordable
Break free of costly MPLS and other private circuits. Make the move to low-cost DSL, cable, satellite, and cellular connections without sacrificing a thing.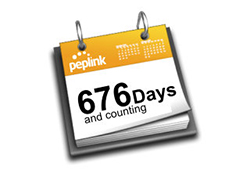 Reliable
Count on uptime and stability under the heaviest loads. Get the Balance and get connections that are rock-solid, fast, and reliable to the core
The Peplink Balance multi-WAN router delivers Unbreakable VPN, SpeedFusion™ bandwidth bonding, and a host of other innovative technologies that let you take control of your WAN and improve Internet connectivity, all with one easy-to-manage device.
Connect Up to 13 Links from Multiple Providers
Connect any combination of DSL, cable, 4G LTE , and 3G links – up to 13 of them, from any ISP for anytime, anywhere connectivity. Whatever mix of connections you choose, the Balance intelligently distributes network traffic over all links connected anywhere on the network. You can also customize traffic flow and service availability with outbound policies and inbound load balancing settings, so you're always in control. And with the Balance's instant, automatic failover between links, you're always online, too.

Reduce MPLS Costs up to 90%
With the Balance and SpeedFusion, you can bond multiple links connected anywhere on your network for VPNs that can add speed and reliability to expensive MPLS deployments or replace them entirely. Because you can combine a variety of affordable DSL, MPLS, cellular, and other WAN links into one secure, high-bandwidth tunnel, you get unprecedented reliability and performance while saving big on connectivity costs.

SpeedFusion-powered Unbreakable VPN
The Balance can bond affordable DSL, cable, cellular, and other WAN links into a single secure and fast VPN tunnel using SpeedFusion technology. Packet-level failover across WANs within VPN tunnels is instant and seamless, so your voice calls and RDP sessions won't be interrupted when the Balance automatically switches between connections.

Monitor AP Usage Report and Create Guest Hotspot Easily from Your Balance
Our AP Controller makes it easy to manage your wireless network from a convenient, intuitive user interface built right into your Balance. You can easily manage your AP with graphical usage reports, and detailed event logs. Setting up a guest hotspot? The Balance's included captive portal and splash screen help you provide a secure, fast, and customized Internet experience for everyone.


Benefits:
Break Internet Bandwidth Limits. Higher Speed. Extreme Reliability.
Internet Load Balancing
Boost network data rates, reliability, and flexibility while slashing connectivity costs with Peplink Internet Load Balancing technology. The Peplink Balance can distribute the traffic of up to 13 Internet links and route data using seven intelligent algorithms. It all adds up to high speeds and rock-solid dependability at a savings of up to 90% compared to solutions built on leased lines and other expensive links.
With the Peplink Balance, all your cable, DSL, leased line, cellular, and other links will work together to handle even the most demanding traffic, without lags or downtime. When you need more speed, add more connections.

Prioritize and Balance Traffic by Type or Application
The Peplink Balance incorporates 7 advanced link load balancing algorithms and customizable rules that put you in complete control of network data priorities. Just set your traffic priorities, including VoIP and custom application traffic, with a few clicks and let

Peplink take care of the load balancing and optimization details – day in, day out.

Count on 100% Uptime with Automatic Failover
Automatic Failover keeps your network up and running by continually checking the health of all connected links and routing traffic around inactive or intermittent connections. You can even customize Automatic Failover's behavior, specifying conditional or dedicated backup links that dynamically respond to network status
Replace MPLS with a Bonded VPN. SpeedFusion Shifts VPN Traffic into High Gear.
VPN for Branch Networking
Shift WAN data transfer, video delivery, VPNs, and more into overdrive with Peplink SpeedFusion. Peplink's patent-pending SpeedFusion true bandwidth bonding technology combines the bandwidth of up to 13 cable, DSL, 4G LTE/3G, and other links to drive high-speed, high-reliability, and high-security networking – all at a lower cost, with fewer maintenance headaches. Whether you're transferring a single file or sharing dozens of documents, video feeds, and VoIP conversations, SpeedFusion teams up all your links to make it happen faster and more dependably.
Maximum Performance. Minimum Hassle.
SpeedFusion increases performance across the board with intelligent bonding algorithms, advanced QoS, and video stream optimization. With SpeedFusion, your network stays up and running smoothly, without micromanagement, even when network traffic's at its heaviest.

Ditch Expensive MPLS.
Looking for an alternative to expensive leased lines? SpeedFusion bonds the bandwidth of up to 13 cable/DSL, 4G LTE/3G, WiMAX, and other Internet connections from multiple providers, boosting transfer speeds and reliability while saving you money compared to single-line MPLS.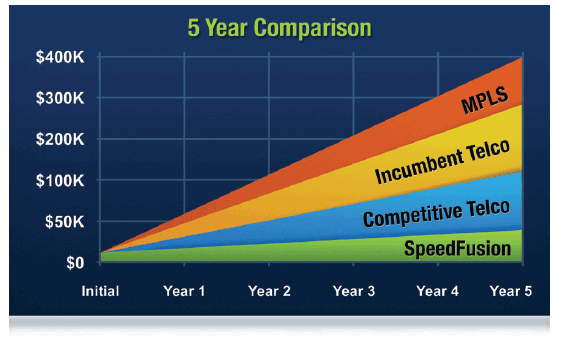 Mobile Bandwidth Bonding. Turbocharge Mobile VPNs.
4G LTE/3G4G LTE/3G Bandwidth Bonding
SpeedFusion, the technology at the heart of every Balance Multi-WAN and MAX Mobile router, bonds the bandwidth from multiple cellular connections. You get faster and more reliable mobile VPNs in every application. Plus, all your data is secured by military-grade encryption, and data volume is monitored and controlled to keep you under your usage cap and within budget.


---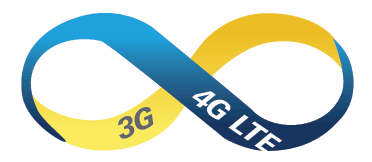 Get the Speed You Need on the Road.
SpeedFusion Bandwidth Bonding automatically aggregates all connected 4G LTE/3G/WiMAX links to give you fast data transfers, smooth HD video, and blazing performance wherever you go. Need more speed? Just add cellular connections and let SpeedFusion take care of the details.
Enjoy Wired Reliability without the Wires.
SpeedFusion bonds cellular connections from multiple providers, continuously monitoring link connectivity and automatically switching to healthy connections in the event of link failure. Your network stays up and running, and you stay open for business.

Do More on the Road with SpeedFusion.
The speed, reliability, and security delivered by SpeedFusion open up a wide range of new mobile VPN applications in demanding, mission-critical fields, such as newscasting and public safety. In addition, transferring large files, such as those generated by digital production, photography, and POS activities, becomes practical and profitable wherever your mobile workforce roams.
All-in-One WLAN Solution. Manage hundreds of APs. Built-in Captive Portal.
Business WLAN Solution
Peplink's business WLAN solution combines an enterprise-grade wireless access point and centralized access point management in one easy-to-use and affordable package. Now you can manage wireless LAN networks of up to 500 Pepwave AP One devices using a single Peplink Balance. With Peplink's WLAN solution, all your mobile devices, including iPhones, iPads, and Android devices, get the same reliable Internet connection that you've come to expect from Peplink – without the wires!

Built-in WLAN Controller
Simplify your network management by controlling your AP One access points using a centralized admin interface built into the Peplink Balance. Just connect an AP One to the network and it will be discovered by the Balance automatically, allowing you manage and set-up your access point instantly!

Easy Wi-Fi Portal
Peplink's WLAN solution features a built-in captive portal, which allows you to provide Wi-Fi hotspot service to your customers or Wi-Fi access to your guests in a corporate environment. From showing a splash screen for free users to accept service terms to creating a user login for your paid customers, you can easily customize your Wi-Fi portal in just a few clicks.

Unified Network Management
With our WLAN solution, you can manage all network connections, local client access, and user bandwidth policy using one single package. Administrators can monitor and generate reports on AP activity and bandwidth consumption, giving you complete and easy control over your network.