PoE-2440
24-Port PoE L2 Managed
Gigabit Ehternet Switch
Enterprise-Grade PoE Gigabit Switch with 4 Combo SFP slots to Expanding Your Network Flexibly & Offering Superior Performance and Capability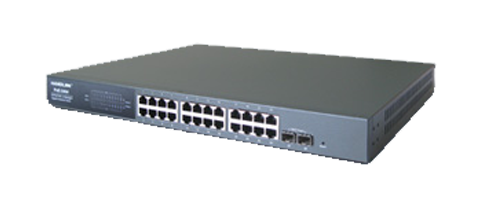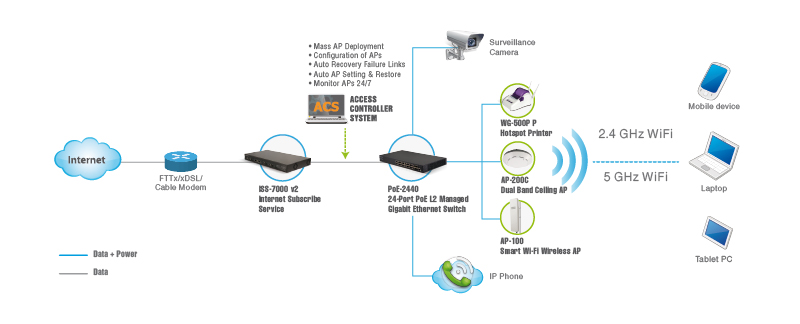 Description
The PoE-2440 provides 24 10/100/1000Mbps ports that supports 802.3at/af-compliant PoE, with a total PoE power supply up to 260W. The switch is optimized for network efficiency, operational cost savings, and ease of management, powerful and flexible enough for users to deploy wireless access points or IP-based network surveillance cameras without cables or power lines running around. The switch can be deployed in different target network topologies, from small to large. Its powerful software features provides a complete solution for both non-PoE and PoE options.
The switch provides high performance, enterprise-level QoS (Quality of Service), useful security strategies and rich layer 2 management features, such as Link Aggregation Control Protocol (LACP) provides load balancing and fault tolerance for uplink connections, 802.1Q VLAN reduces broadcast traffic and increases LAN security and
performance, Access Control Lists (ACLs) restricts access to sensitive network resources, Storm Control and DHCP snooping provides a small or medium-sized business with a network that is geared for growth while ensuring performance stability and reliability.
PoE-2440 is also designed by the best green-saving technologies (IEEE 802.3az and Green-Ethernet). When network traffic is low, it would automatically decrease power usage. The PoE-2440 switch also can be integrated with Handlink's Access Controller System for mass APs Installation and Management. The mapping function from ACS can help searching MAC address of Handlink's APs automatically to reduce the working process of SI.
The switch also can remote each ports of power switch to reset failure of Handlink APs to decrease internet connection problem. It is an efficient and cost-effective to complete Handlink Enterprise-Class Wi-Fi Solution.