Peplink Pepwave Max BR1 Slim
Portable and Rugged 4G LTE Router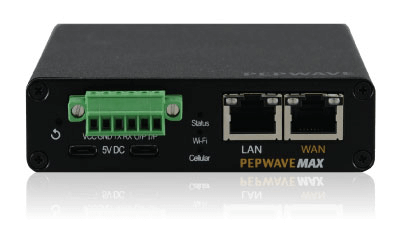 Overview:
The MAX BR1 Slim is compact (1.1 x 3.8 x 4.8 inches) and tough enough to install just about anywhere, and it offers advanced features such as GPS fleet tracking, remote management, and USB or terminal block power capability.


Redundant SIM Slot for Multiple Carriers
Redundant SIM slot with automatic switching for reliable network. You can also set the MAX BR1 Slim to automatically switch SIM cards when you're in danger of exceeding a data cap. It also allows you travel across borders without changing SIM cards manually.

Dual Micro USB Power Input
Connect one of the two built-in 5V micro USB ports to a 10000mAh power bank for up to 7 hours of operation. Running low on power? Connect a second power bank before disconnecting the first for uninterrupted networking
.

SpeedFusion Hot Failover
The MAX BR1 Slim automatically re-establishes your SpeedFusion VPN connection on lower priority link when your primary WAN fails. Your VPN stays up, and you stay seamlessly connected.

Fleet Tracking and Management
Track and manage your fleet from anywhere. With built-in GPS and InControl 2 cloud-based management, you can keep tabs on location and manage your mobile network from any Internet-connected device.

Customize Captive Portal
Branding your captive portal is as easy as uploading your logo and terms & conditions. You can easily set bandwidth allowance and access duration per user or manage access using RADIUS or LDAP servers

Ultra-Portable LTE Connectivity
The MAX BR1 Slim gives you full-featured LTE Connectivity in a package that measures just 1.1 x 3.8 x 4.8 inches. Its rugged metal enclosure stands up to moisture, dust, and vibration. It gives you and your devices, such as surveillance camera, LTE connectivity anywhere.
WAN
Support for PPPoE, Static IP, DHCP
WAN Link Health Check
Bandwidth Allowance Monitor
Support for Dynamic DNS services
WAN Port Convertible into LAN Port

LAN
DHCP Server for LAN Clients
Extended DHCP Options
DHCP Reservation
DNS Proxy for LAN Clients
VLAN on LAN Support
Port-Based VLAN

Security
Stateful Firewall
DoS Prevention
Web Blocking
Web Filtering Blacklists

Complete VPN Solution
PepVPN / SpeedFusion Hot Failover
IPsec VPN (Network-to-Network)

Networking
NAT and IP Forwarding
Static Routes
Port Forwarding
Many to One, One to One NAT
NAT Pool
SIP ALG, H.323 ALG
UPnP, NAT-PMP

Advanced QoS
Individual Bandwidth Limit
Application Prioritization

Complete VPN Solution
InControl 2 Cloud Managment
Router Utility Mobile App
Active Client & Session Lists
Bandwidth Usage Statistics
Web Reporting Services
Syslog Service
SNMP v1, v2c and v3

Networking
Integrated GPS
Device Location Map
Location Tracking Data
Fleet Management with InControl 2

Package Content
MAX BR1 Slim
1x 5dBi Wi-Fi Antenna
1x GPS Antenna
2x 2dBi 4G LTE Antennas

---